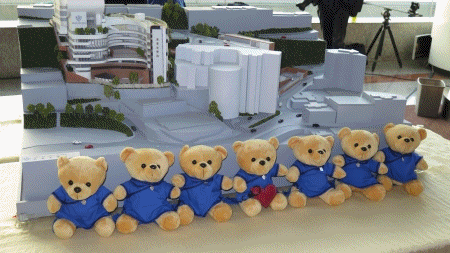 Guests, teachers, alumnae, parents and friends of Ying Wa filled up 150 tables in the Grand Hall, L3, Hong Kong Convention and Exhibition Centre. People started to arrive after 5:30pm to queue up for the purchase of souvenirs and taking photos with teachers and classmates.

The dinner programme started at around 7pm with school hymn and prayer. Mr YEUNG Yun Hung, Kevin, JP, the Under Secretary for Education and Mrs Cherry TSE, JP, former Permanent Secretary for Education, were our guests of honour. Highlights of the evening included: address by Mr Yeung, alumnae choir performance, redevelopment updates, DVD trailer and promotional performance of the musical Nightingale.

Last but not least, there was a short farewell session for Mrs Ruth Lee, who will retire in August 2015. Representatives from board of directors, overseas alumnae and SA expressed their gratitude towards Mrs Lee's contribution to YWGS over the 14 years.