The major fundraising activity of the year is the 115th Anniversary musical The Nightingale to be staged at the Hong Kong Academy for Performing Arts on 30 and 31 July 2015. This original production is a collaboration of teachers and students. The excerpt previewed at the 115th Anniversary Dinner has reaped pleasing result. Ticket sponsorships received totalled almost $2 million. Visit our 115th Anniversary website to find out more about the musical and watch our students' performance :
http://www.ywgs.edu.hk/115/performance.html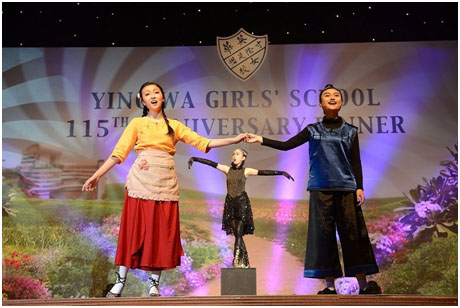 The planning of the next major fundraising event is already underway. Designed to be a fun fair styled event, the Spring Bazaar is scheduled to be held over the weekend of 19 and 20 March 2016 at the decanting campus. The Fundraising Subcommittee has set up a designated team to plan and execute the idea. High quality products are targeted to be the items for sale (such as branded goods and collector items) in the hope to generate more funds. While the occasion is set to be another homecoming event for alumnae and old friends, it will be a precious opportunity of community outreach.
As for the rest of the year, the popular Mrs So's Private Kitchen and its "offspring", the cooking demonstration class by Mrs So's head chef, will continue to generate donations from generous supporters. Check out the schedules by visiting the following web pages:
Dinner schedule: http://www.ywgs.edu.hk/redevelopment/kitchen.pdf
Class schedule: http://www.ywgs.edu.hk/redevelopment/cooking.pdf
As at the end of June 2015, the total donation received approximated $90 million.