Mustering full efforts to the finishing line
The site work has been making progress in the last 6 months in a carefully-monitored speed.. Yet there have been geological challenges beyond our control. We are however very grateful for the dedicated and united team of professionals comprising alumnae in the Building Subcommittee, the consultants and contractor, for taking the project through rough seas.
The foundation and piling works are now proceeding in both Site A (Main Campus – Robinson Road) and Site B (extended campus – Breezy Path). We anticipate the building works above ground to begin in the second quarter of 2017.
With mid-2018 targeted as the handover date, the team is mustering full efforts towards the finishing line. By then we should be preparing for our return to the new campus for the 2018-2019 school year.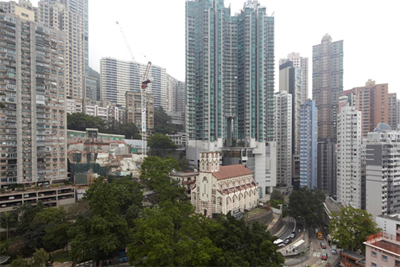 Looking on to the demolished school site from afar
(neighbour Hop Yat Church in the lower centre)

Creating quality space
Making quality use of the open space is one of our aims in designing the new campus. An amphitheatre will be built in a secluded corner of the campus where some boulders erected from the former school building will be revitalized. Not only will these natural features be reserved as part of our heritage, the quality space created will further enrich the learning environment.
The frangipani tree (雞蛋花) that used to sit beside the lower block entrance will be transplanted near the amphitheatre as one of our best remembered features of the old campus.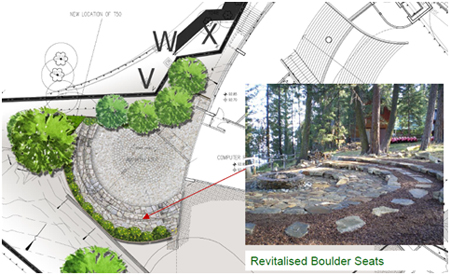 Amphitheatre in the Main Campus
(architect's drawing for reference only)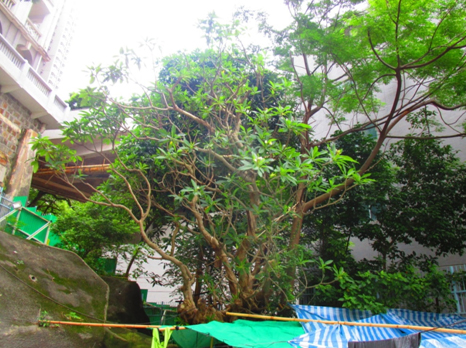 The frangipani tree (雞蛋花) is under care in the building site,
waiting for her new home to be ready.