As we entered 2017, superstructure works were beginning to emerge from the ground. While the difficult site conditions continue to pose challenges to the construction team, the Lord's blessing does not cease to manifest in the untiring efforts and stamina of those on the frontline as well as those putting their hearts and minds behind to ensure that each challenge shall be met with the best contemplated solution.
At this juncture of the year – the high season of rain and anticipated typhoons passing through our land, let us pray for the right weather to allow the site work to speed as planned.
In this issue of the eBulletin, we would like to bring you closer to the building site and thus, enabling us to feel closer to those working on it day-in and day-out. Below are links to 2 YouTube videos taken of the construction sites.
Work progress of the new campus taken by School's Aerial Photography Team
Site A: https://youtu.be/vbJ7gsEfZoc
Site B: https://youtu.be/saYSRfhUr_w
We have assembled hundreds of drone photos using the app, Altizure, to offer you a 3D model of both sites. Simply click on the links below and zoom in / out and rotate it.
Links to the 3D mapping models of the existing Robinson Road Campus Construction Sites:
Site A:https://www.altizure.com/project/5961a51e7dbf5a3e14e2de14/model
Site B:https://www.altizure.com/project/596244327dbf5a3e14e75e18/model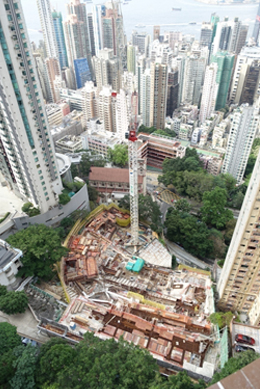 An aerial view of Site A (Main Campus) in June (Photo credit : Kenneth Lai)