Faith, Love and Mission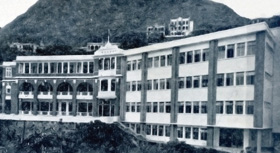 For over a century, a fine piece of land named Beauregard has been 'home' to Ying Wa Girls' School and to those who passed through her doors as young, aspiring students.
Ever since her founding by the London Missionary Society in 1900, the school has upheld the humble mission of providing a Christian education for girls of diverse backgrounds and from all walks of life.
Today, Ying Wa has an enviable reputation for academic excellence and a unique position in the history of education for women in Hong Kong. Many of our students are known for their independent character and contribution to family and society.
At Ying Wa, we believe that each and every student is an individual. That they be given ample space to grow and each realise their potential is a commitment shared by all.
In keeping pace with changing times, the broad range of modern, advanced facilities on the crowded campus is a testimony to Ying Wa's efforts towards creating meaningful space for her 1,200-strong student body.
A Quest for Space
Located well above the hustle and bustle of the city, Ying Wa commands a splendid view and enjoys quiet surroundings. But the rugged terrain offers limited ground space for expansion.
'Ever since her founding, continual growth has rendered the quest for more space a common goal for each and every headmistress.' (The Blessed Years 1900-2000, p. 142)
A walk through the present campus will reveal that every inch of space has been fully utilised. Each nook and corner has been imaginatively transformed into learning, living space to cater to the welfare and interests of the students.
Recent developments in multi-faceted curriculum and educational reforms have, however, placed increasing demands on existing resources, thus making the quest for an open, ideal learning environment ever more urgent.
A New Campus Will Arise
For years, the School Council has looked for opportunities and explored possibilities to expand the school campus or to redevelop either partially or en bloc. The opportunity came when the Education Bureau conveyed its support for an in situ redevelopment at the existing Bonham Road-Robinson Road site.

After careful deliberation, and convinced that this was a God-given opportunity, the Council finally announced the decision to pursue a total in situ redevelopment in late 2009, on the eve of Ying Wa celebrating her 110th Anniversary.

Challenging tasks await: from the choice of a temporary replacement school and the logistics of decanting, to the architectural and geotechnical difficulties of building on a steep slope, not to mention the complicated process of applying for government funding and the enormous financial implications involved.

The road ahead is long. But these are exciting times as the new campus beckons.

by student Leung Ka Ying (7S)

Once in a Lifetime
Fifty years ago Ying Wa embarked on an ambitious development project, culminating in the 1967 new wing. The recent generations of students since have benefited in ways too numerous, too wide and too deep to mention here.
Today, a new campus, based on the solid foundations of the past and designed to the latest 21st century specifications, will give the girls of tomorrow the same - if not a better - fulfilling, loving, Christian education.
New spacious facilities - such as art and sport venues and technologically-advanced installations, among other improvements - will enable Ying Wa to keep to her traditions and yet be equipped to look forward, modernise, transform and reach new heights.
The scale of the redevelopment project is unprecedented, and so are the opportunities and hopes.
To Realise a Dream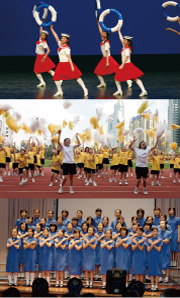 The latest estimate reveals that the price tag of the school portion of the redevelopment project will be in the region of HK$200 million.
A breakdown of the sums shows that the government will be responsible for the standard costs, while the school will take care of all additional, above-standard items and trimmings.
Back in 1894, Helen Davies, our founder, had a dream of building a school on a hill. Today, we have yet another dream.
To realise this dream, we will need a huge collective effort to seek resources in all forms, not only financial but donations of time, services and expertise as well. For support, we look to the extensive network of Ying Wa's family and friends.
Indeed, it will be a privilege for all involved to witness a new foundation being laid for future generations of Ying Wa girls and see history in the making.
Anticipated Timeline
| | |
| --- | --- |
| Announcement of Redevelopment Project | Late 2009 |
| Pre-construction Preparation Work | 2009-2014 |
| Construction Period | 2014-2017 |
| | |
| --- | --- |
| Completion of the New Campus | 2018 |
How the School Campus Evolved
| | | | | |
| --- | --- | --- | --- | --- |
| | | | | |
| 1900 A two-storey structure opened as a boarding school by our founder, Miss Helen Davies | | 1910 Completion of an extension to the west of the 1900 Block | | 1926 Small cottage with black roof opened to house the kindergarten |
| | | | | |
| 1927Robinson Road Block completed after 13 years of planning and building | | 1953Low Block opened to replace the 1900 Block | | 1967New Robinson Wing built to replace the 1927 Block |
© 2012 Ying Wa Girls' School. All Rights Reserved.